Born among the foothills of the Rocky Mountains of Utah, Katharine Weber was the fourth of six children. She describes her childhood as charming, in spite of her family's impoverished circumstances. Weber and her siblings spent their days exploring the old house they lived in — a building of historic significance, built in 1866, as a stagecoach station for Wells Fargo. The fixer upper housed her struggling family as Weber's father worked to repair the structure. Weber has vivid memories of the sounds and spaces of the aged stagecoach station, and of its repair process.
As Weber recalls, "One time, my dad couldn't afford the materials he needed to finish an exterior section of the house, so we went without a solid wall in that room for a while. Instead, layers of plastic sheeting did their best to protect us from the frigid, pounding elements. Our poverty was further complicated by my mother becoming gravely ill with a chronic disease when I was just five years old.
"These events brought me to an early awareness of the fragility and preciousness of life," explains Weber, "as well as the beauty of small moments and the grandeur of everyday spaces. I appreciated the excitement of even the smallest opportunity.
"In spite of our humbling situation, I loved my childhood. I loved playing and exploring with my siblings and neighbors. Even though we lived in relative poverty, I didn't feel it. I felt rich on Christmas morning when I opened a boxed cake mix, thrift shop finds, and handmade clothes and blankets. We had fun together as a family, and those relationships filled me with contentment. Our family bond was strengthened by our mutual struggles."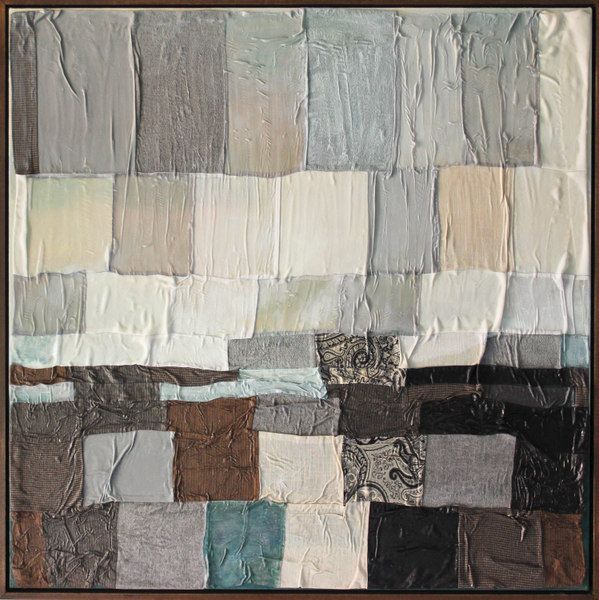 Fibonacci's Mist
As the circumstances of Weber's family improved, she and her siblings retained an acute awareness of beauty wherever it could be found. Art was a natural outcropping of that awareness and they spent many hours as a family with pens and paper, sketching and exploring different techniques. One by one, her siblings entered school and graduated as artists in one form or another.
Weber's sisters both received degrees in art, and two of her brothers became creators of 3D graphic design and photography software. Weber states, "Something in our childhood brought out the artist in all of us. Even my father recently began sculpting."
This transition to a family of artists was aided by Weber's mother, who used her great eye for design to fill their home with mid-century modern thrift store furniture. At one point, Weber's mother hung a reproduction of a Mark Rothko painting that caught Weber's attention and intrigued her over the years.
Weber attributes her desire to paint to her grandmother, an oil painter who worked as a drapery maker and cake decorator. Weber recalls being entranced by the skill and appeal of the paintings on her grandmother's easel. Weber was given the opportunity to paint with oils at an early age. This exposure to paint and fabric would become central to Weber's future artistic endeavors.
It was early in Weber's life that she realized she would become an artist. As she relates, "My first vivid recollection of the importance of art in my life was in first grade, when I saw the results of one of our class projects. We coated paper leafs in a clear glue and then swirled autumn colors into the medium while it dried. I was sitting in a corner, next to the windows. I looked up at the leaves rimming the classroom and was aware of which ones had turned out well — and which ones had not — based on the color combinations.
"Later, I entered an art contest and was so excited because I had painted a rainbow with just yellow, orange, and red. I knew those three colors looked great together, long before I understood the meaning of the term analogous color scheme. I intuitively understood what looked good, and I somehow knew I could develop those skills to make something appealing. That desire to create beautiful things compelled me, even at 6 years old. From that time on, I always replied "artist" when asked what I wanted to be when I grew up."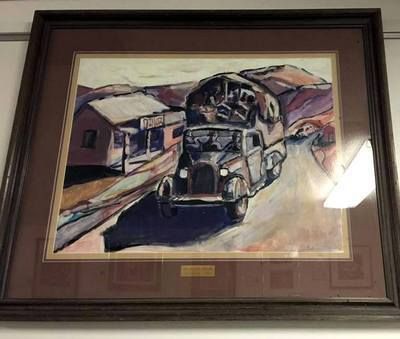 Grapes of Wrath
Throughout her schooling, Weber left a trail of awards and recognition. Her first sale was to her high school, and that painting still hangs in the hallway beside the office.
Weber attended Occidental College in Los Angeles, California, where she attained a Bachelor of Arts degree in 1999. She studied under the internationally recognized artist Linda Besemer, who is known for her innovative use of acrylics. Besemer taught Weber to explore paint and the process of creation.
Weber also attended classes at the Art Center College of Design in Pasadena, California. There she gained an appreciation for the intricacies of the design process. An Art Center professor encouraged Weber to look at her body of work as a sculptor looks at a block of stone. As Weber recalls, "I was encouraged to find out what really matters to me, in order to discover what style of art I should pursue. My professor told me to chisel away pieces in my portfolio, as a sculptor would remove unnecessary pieces of marble, until all that was left was my essential style — my masterpiece."
This advice resulted in a focus on mixed media work on canvas.
Weber's distinctive use of fabric embedded in acrylic emerged in her college years. She explains, "I was in the studio one day, and I wanted to get a nice, thick layer of color on one part of the canvas. I put on what felt like a substantial amount of paint, but as it dried, the surface lost its depth and presence. I happened to have scraps of red cloth nearby. The realization came to me that I could embed the fabric into the paint to increase the depth. I was thrilled with the deeply textured surface of that painting, "Untitled, 1998." One discovery about the interaction between paint and material led to another, and my sculptural fabric style emerged."
Weber continued to develop her style, and at the conclusion of her major in Art History and the Visual Arts, she was granted a solo exhibition space for her senior show.
At this time she met a charismatic California native who would eventually become her studio lackey and spouse. As her husband worked toward establishing his career as a Firefighter/Paramedic, Weber put aside her studio pursuits and provided for her family as a database manager and assistant auditor. She continued to create as time permitted, and sold paintings off the walls of her work space. Her family grew and Weber dreamed of the day when she could return to art full time.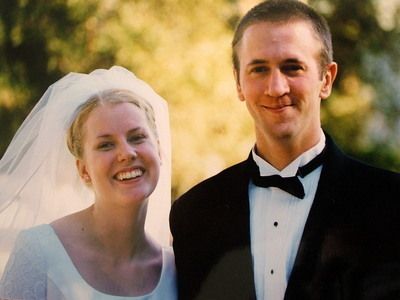 When Weber's husband found a position serving an amazing community in Northern California and their four children entered school, Weber knew that the time had come to return to the studio.
She and her family now reside in the foothills of the Sierra Nevada mountain range, and for the second time in her life, Weber lives on an historic site from the 1800's. Gold was discovered in California just miles from her house, and as fate would have it, Weber finds herself living on a street named after the nearby stagecoach stop.
Weber's artistic family continues to inspire her. Weber's mother now brings the mid-century modern furniture with her, leaving behind a trail of good design. Weber's siblings and father continue to create as well.
When her artistic grandmother passed, Weber inherited her stockpile of fabric. Weber includes a piece of her grandmother's cloth in many of her paintings, as a tribute to the influence of the preceding generations.
In addition to her grandmother, Weber was influenced by the master artists she encountered through her studies. She was fascinated by the ancient Greek sculptors, who carved their figures as though the draping material of their robes was drenched. This "wet drapery" style of sculpting was done to emphasize the movement and form of the figure beneath the clothes. Weber recognized that she, too, used fluid to cause the material on her paintings to flow and reveal, creating a similar sculptural outcome.
Many modern artists inspired Weber, including Mark Rothko, who sought to embody the sublime using simple planes of color. His large paintings, encompassing the viewer with color, encouraged Weber to explore the effects of a limited palette and an expansive canvas.
She remembers her introduction to the work of Eva Hesse, a post-minimalist artist who created simple geometric shapes with non-rigid materials such as latex, fiberglass, and plastics.
"I discovered Eva Hesse's sculptures in an art history class and was instantly drawn to her use of structure to present organic, flowing elements. The geometry in her work, as well as the uncontrollable qualities of her medium, are reflected in my painting technique.
"It's interesting to me that so much of nature is highly structured — take the organized center of a flower, for example. Yet we associate nature with the opposite — a lack of order, and irregular edges. This juxtaposition of the controllable and the uncontrollable in nature, and in Eva Hesse's work, is beautiful to me."
Nature has become an important influence in Weber's work, inspiring her with the wide range of moods that the elements can invoke. As her work has evolved over the years, landscapes have played an increasingly prominent role. Trees began to emerge from the folds of fabric, and her backgrounds became more and more recognizable as landscape paintings.
In her current work, Weber builds on this union of control and a simultaneous lack of control found outside. She is inspired by a particular scene and studies the underlying geometry. She is fascinated by the Fibonacci sequence found in the patters of tree branches and flower petals. Weber feels that man's rudimentary geometric contributions to the landscape look more structured from afar, but nature may still hold the upper hand on organization and rigidity when analyzed minutely.
Weber uses the imagery of her mountainous and urban environments as inspiration. She represents each of her landscapes through the geometry of pieced fabric, as a nod to the organization of nature. She creates an under-painting of the landscape with a focus on its emotional impact. When both the painting and the fabric are completed, Weber joins them together using an acrylic medium. Elements of the under-painting are visible through the fabric as it hardens. The cloth retains a translucency, as though still wet. As the painting dries, the rigid geometry of the fabric gives way to the organic, undulating tug of the cloth that occurs after each piece is sewn together. The resulting combination of material and painting has been described as inviting, awe-inspiring, and beautiful.

"The first thing viewers want to do," Weber states, "is touch the surface. I encourage them to do so. There's something so intimate and embracing about fabric. We live in it, we sleep in it, and we feel it brush our skin every day. Cloth protects us and comforts us and we feel a personal connection to it. This connection extends to my paintings."
One fascinating aspect of Weber's work is the way light reacts with the colors and folds of fabric. As light changes from morning to evening, the colors and shadows emerge and recess.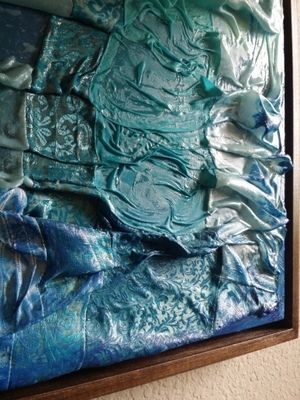 Blue Rain
As one collector describes this facet of Weber's pieces, "I love the saturated colors and the way that the three-dimensional nature of the paintings effects the colors. The painting changes throughout the day, and I love that."
When she is away from the studio, Weber can be found designing her interior spaces, dancing, and teaching figure drawing to the neighborhood bicycle gang. She is associated with Xanadu Gallery and Blue Line Arts.
Water and Sky - bG Gallery
2017, Santa Monica, CA
To the Touch - Blue Line Arts
Magnum Opus XXVII -
Sacramento Fine Arts Center
Juror: Sarah Solis Mattson
Blue Line Arts - Membership Medley
2016, Roseville, CA
Sacramento Fine Arts Center - Focus on Fiber
Blue Line Arts - By Hand
Juror: Elisabeth R. Agro, Associate Curator of American Modern and Contemporary Crafts and Decorative arts at the Philadelphia Museum of Art.
MarinMOCA - Summer National Juried Exhibition
Juror: Nancy Meyer, Curatorial Assistant at Los Angeles Contemporary Museum of Art.
For Your Art - (en)Gendered (in)Equity: The Gallery Tally Poster Project
Spearheaded by Micol Hebron.